Independence Day is just around the corner. Is your business or organization ready to get its name out during community celebrations? Wherever you live, there are sure to be plenty of marketing opportunities during this great holiday. With large public gatherings planned throughout the day in cities across the country, promotional products can be distributed easily to many people. Here are three ideas for how you can use patriotic promotional items this 4th of July.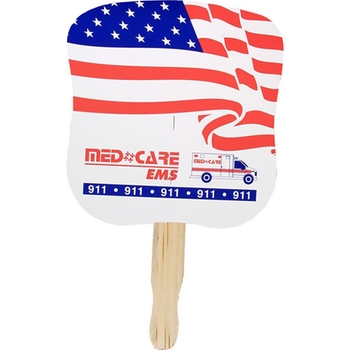 If your company or organization is running or sponsoring a 4th of July event, why not get everyone custom patriotic apparel. Red, white, and blue t-shirts or flag shirts with your brand name on them are great for groups walking in parades, working at festivals, or any other community events. If you are not an organization that's in a parade, try sponsoring a group that is and give them free custom t-shirts. Everyone in town will see your name in the parade.
Candy is a huge draw at any parade. Children scramble to collect as much as they can. Lots of groups will throw out generic candy, but your group can really stand out by tossing out custom candy with your logo on it. ePromos can set you up with individually packaged candy with custom wrappers or  custom chocolates molded with your name or logo.
July is a hot month almost anywhere in the country, and events on the fourth are usually outside. When people are hot and uncomfortable at a parade or fireworks show, hand out promotional fans with your business on them. Paper fans are inexpensive and can be distributed to many people on a smaller budget. If you want a product that people will keep longer, try battery-powered mini fans. Both will be very appreciated on a hot 4th of July day.